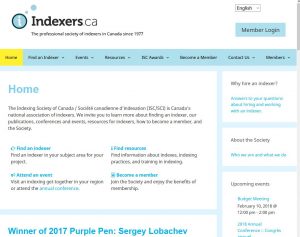 The Indexing Society of Canada / Société canadienne d'indexation (ISC/SCI) is Canada's national association of indexers. Its mission is to encourage the production of indexes,  promote the employment and professionalism of indexers.
The Society's website was outdated and substantially broken. I gave them a new bilingual and responsive website that lets them log in to access members-only resources and post their profiles for hiring.
As their Communications Director, I write the society's promotions and publicity.
Skills:
Copywriting
Website design and development
WordPress installation
eCommerce
Blogging
Social media