Canada's indexers look modern and professional with a new website and promotional materials
---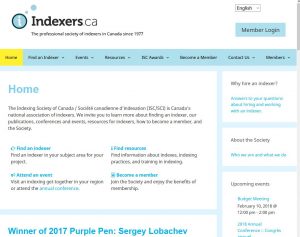 Client
Website Design and Development, WordPress Installation, Copywriting, Email Marketing, Social Media Marketing, Blogging
Indexers are the people who write indexes for the back of books as well as for materials such as periodicals, ebooks, websites, archives, and in Canada, Hansard.
The Indexing Society of Canada encourages excellence in indexing practices and promotes the employment and professionalism of its indexer members. Its members include indexers and related institutions in Canada and around the world.
Most indexer members are freelancers and they depend on the Society's website to promote their services to publishers and authors in need of an indexer.
Website Design and Development
The Society's website was outdated, hard to use, and broken in several areas. Furthermore, it was a problem for the freelancing members, as they depend on the website to promote their services to publishers and authors in need of an indexer.
I developed a new responsive WordPress website that provides the indexers with new capabilities, including:
Log in to access members-only resources
Register, purchase, and renew/upgrade membership online
Receive automatic notices of membership expiry
Ability to advertise their services on the "Find an Indexer" page
Visitors to the website can now
Search for indexers for hire according to subject area expertise and search terms
View the Society's calendar and read about upcoming events
Read the Society's announcements and articles on the new blog
Navigate and view content in either of Canada's two official languages using the toggle button.
I am amazed at what [JoAnne] is accomplishing with the website (Stephen Ullstrom, indexer)

[JoAnne showed] neurosurgeon-like skills in painstakingly examining every area of our website (Margaret de Boer, President, Indexing Society of Canada)
To introduce the new website to the current members, I made a 7-minute video.
Great! Thank you so much! This was very informative and to the point! (Siusan Moffat, indexer)
Promotional materials
Annual Conference
The Society's annual conference is the major educational and networking event of the year. For the 2017 conference, I wrote and implemented a weekly social media campaign.
Each week, I wrote a blog post and an email that told a story, researched by myself, which led to a reminder about the conference.
I posted short versions on Facebook, LinkedIn, and Twitter to further spread the word.
I sent publicity emails to writers' and editors' groups.
JoAnne, I love how your mind works. It's brilliant. I didn't even know that this is exactly what we needed!!!!!!!! (Alexandra Peace, Conference Chair)
Thank you for this and all the regular newsy emails leading up to the conference. It is great promotion and keeps the event top of mind. (Angela Wingfield, indexer)
Visit Indexing Society of Canada 2017 Conference Blog
Letter of Introduction
Here is a letter  to students of indexing courses, informing them of the Society and benefits of membership.
Skills:
Copywriting
Website design and development
WordPress installation
eCommerce
Blogging
Social media