Venerable hiking club rejuvenated with revamped publicity and new website functionality
---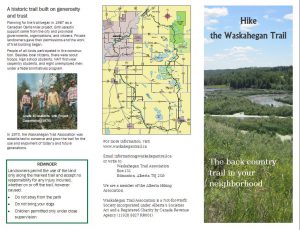 Client
Websites, Brochures, Blogging, Documentation, Social Media
The Waskahegan Trail Association is a non-profit organization dedicated to the preservation and maintenance of the Waskahegan Trail in the province of Alberta. Established in 1970, it was facing a crisis as the current membership was aging, new members were not renewing, and volunteers were not staying. Furthermore, public participation in the weekly guided hikes was declining.
Objectives
Revamp Internet presence with updated website and active social media accounts
Implement online membership signup and renewal
Add branding to brochures and web pages
Services
Printed brochure that promotes the trail and the organization and communicates the brand.
New responsive WordPress installation that supports event scheduling, announcements, and blogging by multiple contributors.
Implementation of online registration and purchases through PayPal and a supporting user manual for the webmaster and membership secretary.
Facebook page and Facebook closed group setup, with ongoing monitoring and multiple posts per week.
Awesome work. Thanks for all the time and effort you put into making this an efficient, welcoming, evolving hikers club!
Kirsten Newman
Hike Leader, Waskahegan Trail Association
Visit Waskahegan Trail Association
Skills:
Copywriting
Blogging
eCommerce
WordPress installation
Technical writing and design