Industrial heater company stands out on the Web
---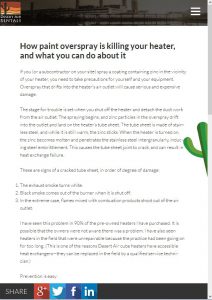 Client
Websites, Brochures, Direct Mail, Blog, Documentation
Desert Air Rentals is a provider of industrial heating solutions for the coatings and construction industries. Based in Nisku, Alberta, the company was founded on the development of its technologically-advanced cube heaters. It has an outstanding reputation with its clients for its expertise in solving difficult heating problems and providing great customer service.
Objectives
Boost Internet presence in order to expand client base and stand out from the commodity heater rental market.
Provide written materials to support the marketing and sales of the cube heaters.
Services
Perform as point of contact with the website development team, giving the client had more time to be available for interviews for the copywriting material.
Web copy written for organic SEO.
Blog posts and LinkedIn articles that educate and assist customer field personnel, while boosting the company's credibility as an authoritative source on matters related to industrial heating.
Downloadable sales materials to support the customer in the buying process: a brochure, and a cost-model spreadsheet to assist clients with cost comparisons and project estimations.
User manual for startup and operation of the cube heater.
Direct mail campaign.
JoAnne did an outstanding job of developing my company's sales brochure and web pages. She helped me draw out my thoughts and made them clear and concise on paper. Her marketing experience was very helpful too. I would definitely recommend JoAnne for a project.
Chris Benedict
President, Desert Air Rentals
Skills:
Copywriting
Blogging
Marketing strategy
Technical writing and design