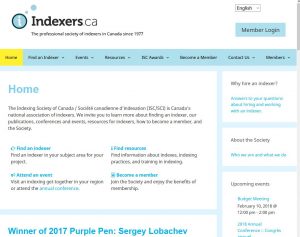 The Indexing Society of Canada / Société canadienne d'indexation (ISC/SCI) is Canada's national association of indexers. Its mission is to encourage the production of indexes, excellence in indexing practices and the professionalism and employment of its members..
The Society's website was outdated and substantially broken. I gave them a new bilingual and responsive website that delights the members and attracts the public.
Other services include email campaigns to promote the annual conference, a promotional letters directed at students of indexing courses, and press releases.
Skills:
Web copy
Website design and development
WordPress installation
eCommerce
Blogging
Press Releases
Social media