Venerable hiking club rejuvenated with revamped publicity and new website functionality
---
Services Provided
Website Design and Development, Brochures, Blogging, Email campaign, Social media
---
The Waskahegan Trail Association is a non-profit organization dedicated to the preservation and maintenance of the Waskahegan Trail in the province of Alberta. In 2016, it was facing a crisis. The current membership was aging, new members were not renewing, and volunteers were not staying. Furthermore, public participation in the weekly guided hikes was declining.
Objectives
Revamp Internet presence with updated website
Implement online membership signup and renewal
Engage members and visitors with regular blogging, emails, and Facebook
Services
Printed brochure that promotes the trail and the organization and communicates the brand.
New responsive WordPress installation that supports event scheduling, announcements, and blogging by its members.
Online registration and purchase of materials through PayPal.
Ongoing email campaign that entertains and informs the list about past and upcoming activities
Awesome work. Thanks for all the time and effort you put into making this an efficient, welcoming, evolving hikers club!
Kirsten Newman
Hike Leader
Just wanted to say it's a real treat to read you hike descriptions before and after each hike. You're doing an amazingly wonderful job at this — on top of everything else you're doing for the WTA. And we're getting some good turnouts for our hikes as a result. Thank you very much.
Terry Elrod
WTA Board Member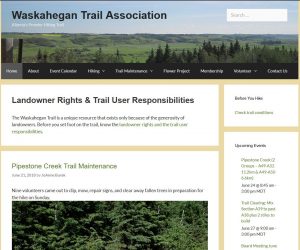 The website is the public face of the Waskahegan Trail system. Area residents and visitors alike discover the trail through their search engines and links on curated lists. Once they arrive at the website, they are entertained by blog posts about the previous weeks' hikes and trail maintenance. The beautiful landscapes, interesting flora and fauna, and hikers and volunteers of all ages often inspire them to come out to the next hike or to join the association.
The website's calendar keeps members and the public informed of upcoming hikes.
The online membership system makes it easy for new people to join and for existing members to pay their dues.
Skills:
Copywriting
Web copy
Website design and development
WordPress Installation
Blogging