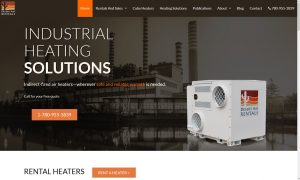 In the three years since its website was developed, the company's services had evolved. New service offerings needed to be added, but that was impossible to do without rewriting the website's custom theme.
Instead, the website was moved to a flexible commercial WordPress theme. This enabled us to keep the website's original "look and feel" while updating font size and page layout for mobile.
In the move, the content on every page was reviewed and rewritten to incorporate good web-writing practices and SEO.
The unique value of Desert Air Rentals is its line of advanced heaters and the expertise of the owner in all things electrical. The website's new home page reflects this with equal emphasis while avoiding clutter.
It looks great! I really like the blog post/publications. (Chris Benedict, Owner)